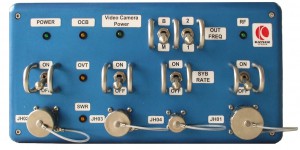 At the ARISS Schools contact with the Royal Masonic School for Girls on Thursday 11th February 2016, HamVideo signals were received showing Tim Peake answering the questions put to him by the girls at the school.
This was the first time that the HamVideo system has been used during an organised ARISS Schools contact and came after an incredible effort of the UK Operations team for ARISS. Have a look at the moment that the picture of Tim was received during the contact.
The HamVideo signals were received on a 3.8m antenna dish located at Goonhilly Satellite Earth Station in Cornwall and on a mobile Land Rover based 1.2m dish that was built for the Principia mission.  The UK Operations Team worked very closely with Goonhilly Satellite Earth Station, Catapult Satellite Applications and QinetiQ to achieve this goal. More details can be found here and here.